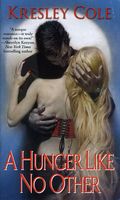 "A Hunger Like no Other" in FDB
If you like paranormal stories, this book could be the beginning of a good friendship with a beloved series (Immortals After Dark)
95 in AAR Top 100 list (2013)
Lachlain MacRieve
, leader of the Lykae Clan, has been in chains for many years because vampires hate him – for a good reason, IMO, as he chases and kills them. But suddenly, he has this feeling that somewhere near him is his soulmate, the one specially made for him,… the

She

! for this

He

!
His strong desire makes him free himself, but there's a little problem. His soulmate is Emmaline Troy, half Valkyrie/half vam-pi-re. From that moment on, you follow a path full of gore, sexual tension and beastly sex. What could you expect from a lycanthrope?
The best thing in this novel is the worldbuilding, a believable universe full of vampires, werewolves, trolls, demons, what ever. Everybody hates everybody else and now and then they all fight among themselves. But the main rule seems to be 'all against the vampires'.
The characters are very well drawn: the wild werewolf and the ethereal half vampire that hasn't found her place in this world. In the end, she solves her problems in a very Freudian way.
But the thing is that as I'm not very fond of paranormals, I couldn't warm up to this story. The dialogues didn't help, as they sounded as teenagers to me, not magical creatures with a lot of years on their hairy backs.
I also had this feeling that paranormals have become the new bodice-rippers. In the end, this is the story of a very young American tourist in Paris looking for herself -who she is, where does she come from, who her parents were...-, who is kidnapped and sexually abused by an old Scottish aristocratic brute. She wants to go home, but he denies her freedom once and again. She's so desperate that she could even kill herself. We wouldn't accept that in a contemporary romance. Not even in a historical one with a viking or any other merciless medieval warrior. But if it's a werewolf and a vampire? No problem.
BTW, I missed something. I don't know how Emma could go from New Orleans to Paris. She could not teleportate herself in those days, and if she had used a plane, certainly she'd received solar light.
The long review of this book, in Spanish, can be found here.