The topic of this month is
Kicking It Old School (publication date 10 years or older)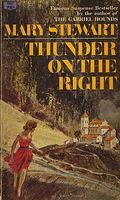 In August the topic is a novel that was published more than ten years ago. So I went to my kindle and looked for the oldest thing there that can still be considered a romance novel.
And there I found it, a Mary Stewart's gothic. I don't know why I bought it. I guess I it was cheap and I enjoyed other things written by her.
As usual, the heroine is a young English woman abroad. In this case is Jennifer Silver, daughter of the Bullen Professor of Music at Oxford. A couple of years ago she had a beau, Stephen Masefield. He had fought in Korea –I guess it was in the Korean War that lasted from 1950 to 1953, but later on he talks about having been in the WW2, so I'm not sure-. Anyway, he came from war with a little limp and wanted to keep on studying music, went to Oxford, met Jenny and were very good friends. He had to go to Vienna, and did it alone, as Jenny's mother doesn't want him as a son-in-law.
The beginning of the book is two years later, with Jenny, now 22 years old, in the astounding landscape of Gavarnie, in the French Pyrenees. She's gone there in order to meet her cousin, Gillian. This girl is half French and she's the widow of a Frenchman. Jenny has received quite perturbing letters from her, talking about illness, and a convent in the mountains and that perhaps she will profess as a nun, something that absolutely has no sense for Jennifer.
So there she goes, to talk to her cousin. In the hotel she meets Stephen again and discovers they still feel very comfortable with one another. But Jennifer has to go to the nunnery, looking for her cousin. There she goes and in an impressive description of a totally gothic atmosphere, she meets what she supposes is a nun, Doña Francisca. In very few and harsh words, she's told that her cousin is dead. It's quite a shock for Jennifer, who just does not understand it.
Jennifer asks questions, and wanders through the dark aisles and frightening rooms of this convent isolated in a stormy valley in the mountains. And she starts doubting everything, she cannot accept that her cousin is dead, she dislikes that woman –who is not as a matter of fact a nun but the bursar and some things she's told make her think that the dead woman cannot be her cousin.
I enjoyed this book a lot. It's a gothic novel that instead of a mansion in, say, Cornwall, you've got a convent in the Pyrenees, with a sinister woman all dressed in black that, by the way, is Spanish and reminded me of certain old women that I know of, with very bad character and that think that religion justifies anything when, as a matter of fact, they are only satisfying their own ambitions and vices.
These old writers knew how to engage you in a story. It's like being told a tale before the fire, slowly and creating the entire needed atmosphere. You feel intrigued and a little bit frightened. Many books published nowadays sound like a movie script.
And she adds a very subtle –o so British! - sense of humour, that you can smile, even in the midst of the dreadful things that happen in the book.
The quality of the writing in authors like Mary Stewart and Georgette Heyer, even if the plots lack something, is the reason why they keep on being published and enjoyed. I wonder how many contemporary romance writers will still be read in fifty years time by fans of the genre.
Yes, her forte is the style. She knows how to create an atmosphere that catches you. She uses the necessary descriptions, but she also knows how to use very skilful dialogues now and then. Her heroines are lively, resolute, and brave but never lose the good sense and the composure of a lady. The hero, in this case, is rather beta. He warns Jennifer not to turn him into a hero. But of course, in the end he also has his heroic moment.
It was a nice change to read some Spanish expressions without misspellings. That's something that usually happens when reading in English. Hundreds of million people speaking Spanish in the world and they cannot find one who writes it correctly. For instance, I'm reading Beauty like the night, by Joanna Bourne and even she has misspellings in the few sentences in Spanish included in her book. But not with Mary Stewart, she had her Spanish well written. I only found one word wrong –I don't know why the Spanish name 'Jesús' is written as Gésus, a strange word that mixes Italian and Spanish and it does not belong to any of these languages.
It's an entertaining three-star novel, but I give it one more star for the setting. The Cirque de Gavarnie is a splendid cirque in the central Pyrenees, and is part of the World Heritage landscape called Pyrénées - Mont Perdu, which spans the contemporary national borders of France and Spain. The author knows how to take you there with her seductive words. Mountains, valleys, rivers, peaceful mountainous meadows, winds and storms are brought into life in your sitting-room, which is a wonderful thing for a mountain lover like me.
Cirque de Gavarnie, by Guimir (2010), via wikicommons