The topic of this month is
Favorite Trope (a favorite theme - amnesia? secret baby? fairy tale? friends-to-lovers? etc.)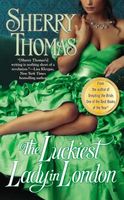 Genre: Historical / Victorian
Part of a series: The London Trilogy #1
Sherry Thomas at her best
In June we have to look for a novel with a favourite trope. I have several of them: beta heroes, friends to lovers, best enemies, second chance at love, amnesia, disguise....
In my database, I've got this book as one of those with the topics Best Enemies and Love & Friendship between Hero and Heroine, which is something quite surprising, because it looks like they have to be either friends or foes. How can they be two things at the same time?
The Luckiest Lady in London
was in my kindle because Sherry Thomas is one of my favourite authors and I'm trying to read all her backlist. But at the same time, her style is so detailed, so subtle in the words and gestures of the characters that I can only enjoy them if I'm ready to read slowly. That's the way to discover each little detail.
And one is not always the same kind of reader. Sometimes you want fast reading, but there are moments when you are ready for a slow reading. So it was waiting for me to have the good mood and now that moment has arrived.
The hero is Felix Rivendale, the marquess of Wrenworth. It's known as The Ideal Gentleman, because everybody has a good opinion of him. Men and women respect him. He is noble, rich and of course, with amazing good looks. Still a bachelor, he thinks he will marry someday in the future, but he's in no hurry. In a sense, he is a cheater, because he feels inside that he does not deserve that adoration. Or, at least, he doesn't trust anyone as being sincere. Neither his mother nor his father loved him very dearly, so he understands that love is something stupid to feel. A useless feeling. Something that can only give you endless disappointment and pain.
Louisa Cantwell is young, but quite average. Not particularly beautiful, or charming or accomplished in any of those things (painting, music, embroidery) young women of good family were considered to cultivate. She comes from a good but impoverished family, so she has to marry well in order to support her sisters. She has thought for years about how to achieve this, so when she goes to London for her first –and probably only- Season, she knows she has to be charming and perfect –that's the only way to get a husband.
She gets quite a number of beaus, but not any proposal yet when Lord Wrenworth sets his eyes on her. She knows that he is not a man for her, in the sense that he will not ask for her hand. So although she feels this powerful attraction towards him, she tries to ignore it.
But precisely that's something that attracts Lord Wrentworth. She wants him in a very physical way, he, and not his golden image, and at the same time she rejects those desires. She is the only one who seems to see him as he is. She does not flatter him, because she is not looking for his good opinion.
Felix is so intensely attracted to her that wants her to be his mistress, with a lot of money in order to support her family. Louisa says 'no'. If no noble gentleman wants her as a wife, then she will start looking for butchers or lawyers or any other commoner that can give her respectability and money, even if it sets her out of the ton.
Because now it's not only a matter of physical desire and economical security. She has fallen stupidly in love with him.
She was a woman in love and she wanted nothing less than his unscrupulous and very possibly unprincipled heart, proferred to her in slavish devotion.
At the end of the season, thanks to some obscure ploys on Wrentworth part, nobody proposes to Louisa. So when Wrentworth asks her to be his wife, as she didn't want to be his mistress, she accepts, even if she does not trust him.
Everybody considers then Louisa is the luckiest lady in London. She is not a great beauty and hasn't got an important dowry. And nevertheless, she conquered one of the most attractive bachelors of the ton. But Louisa is not so happy, and quite unsure of her luck. She distrusts him.
The rest of the book is how they, slowly, discover their feelings, accept them and acknowledges them.
This is a character-driven story, not a plot-driven one. It's delightful to see the feelings of the characters developing and how both of them are frank -only to a certain point, because each one of them distrust everything the other does.
There are some moments in which they sound like friends, particularly at the beginning of the story, when she tries so desperately to catch a husband and he tells her or does things that could help her –or not. But there's humour in their dialogues, which made me smile now and then. Sometimes, it's so subtle that I had to think for a moment if they were saying what I thought they were saying.
There's some hostility between them, too. And distrust. A lot of it. And insincerity. But I wouldn't consider them as enemies in the strict sense of the word. So I wouldn't put this book exactly in those topics that attract me.
But it doesn't matter as it is so beautifully written. There quite a few intense emotional moments and the sensual scenes were perfect, the kind of add to the story not only in the steamy way but they also have got a sense in the plot. She is quite honest in her desires, he is a little more reserved, on the one hand he wanted her as his mistress, but on the other hand, there are moments when he does not want to reveal himself as he is and therefore tries to resist the temptation Louisa represents.
I 'only' give it 4 stars because I grade a book comparing it with other books of the same author. The master piece of Sherry Thomas, for me, is Not Quite a Husband. It had everything I love in a romance novel and left me with an intense hangover. This Luckiest Lady goes more in the line of My Beautiful Enemy, Delicious, Ravishing the Heiress... Or His at Night and Private Arrangements, which are the other two books in this London Trilogy.
So another book from Sherry Thomas backlist that goes out. There are so few that I haven't still read that makes me sad, as I'm not sure if she'll ever write this kind of book again.
Well, we are now in the middle of the TBR Challenge 2017 and I consider myself quite lucky, as Louisa. This year it looks like I'm choosing better books for this challenge, as I'm enjoying them a lot. I hope the second part of the year will bring me beautiful books as this one.