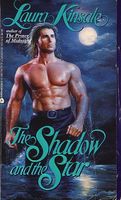 "The Shadow and the Star" (fdb)
Laura Kinsale belongs to a league of her own. Each of her novels is wonderful in its own special way.
Genre: Historical – Victorian era
If you give any non-romance reader one of the best Kinsale's novels, I'm sure all his/her prejudices against this genre will be destroyed. And, let me tell you, this novel is one of her best.
Leda Étoile
is a woman who doesn't fit easily. She has been raised as a lady. But with no money and no family connections, she has to work to earn a living, and that's not an easy task. When she seems to be in dire straits, a handsome foreigner comes to the rescue and offers her a position in a rich household.
This man is Samuel Gerard, a mysterious man from the Sandwich islands, this is the Hawaiian Islands. He had terrible experiences when he was a child. And then he was rescued by a wonderful family. He found Dojun, a Japanese servant that is a master in martial art. Samuel is in love, in a very platonic way, with Kai, the daughter of that family, but she considers him just as a kind of brother.
Leda and Samuel belong to a time and age when physical love is looked with distrust. Samuel feels what he considers a totally inappropriate passion towards Leda. These contradictory emotions that burn inside him makes him confused. The sexual tension between them grows up until it's irresistible.
I consider this novel as the prototype of what an historical novel should be –well researched, a very believable reconstruction of that time and age and with characters that think and feel as if they really belonged to those times.
I love Kinsale's literary style. There's a reason for each word she puts in the novel, for the detailed description of each character's behaviour. And the plot unfolds in a very intriguing way –it looks like the story goes one way but then there's a twist and goes in a different direction and in the end, there's something that is related to something else that happened at the beginning of the novel. So it's kind of a circular structure, in the end.
There are many fascinating details about the Japanese culture. If you are not interested in these exotic part, the book can be boring for you now and then.
And it's also a perfect example of a classic novel –balanced, contained and passionate at the same time. As the main characters, Leda and Samuel.
If you want to read a really wonderful review of this book, written by the amazing Lisa Kleypas, you can find it HERE, in the All About Romance page.
The long review of this book, in Spanish, can be found here.