The topic of this month is
Kicking It Old School (original publication date older than 10 years)
This month we have to read an old book. I have several of them in my TBR pile. I started a Georgette Heyer on, but I wasn't in the mood and I left it.
Then I went through my books looking for something that could interest me and there it was, this book that was the first one published by Susan Elizabeth Phillips.
It was reissued as JUST IMAGINE, and that's the book I've read, in the Spanish translation ¡Imagínate!
And, yes, there's nothing more Old Skool than this. At the beginning, the plot reminded me of one of my all-times favourites, 'Ashes in the wind', by Kathleen Woodiwiss. There's a Southern belle disguised as a boy and an old Yankee soldier.
She is Katherine, 'Kit', and goes to New York in order to kill Baron Cain, the Yankee that has inherited Risen Glory, her father's plantation in South Carolina. She wants to kill him, but of course, she will not do it, because otherwise, we would have no novel.
He soon discovers that she is not a boy but a young girl. Moreover, he does not only owns Risen Glory but he's also her tutor. There's nothing he wants more to forget about his pupil and sell that ruined plantation. She, on the other hand, wants the plantation and not to be submitted to this hateful Yankee.
They find a way to achieve an understanding, even if it means that none of them gets what he or she wants.
This is a book that spans several years. At the beginning, neither Baron is interested in Kit, nor Kit in him. It's later, when years go by, that they find something hot and steamy between them. In a sense, it's a novel of formation or 'Bildungsroman', as the heroine begins as a young girl and we follow her through the years until she is a young woman sure of herself and what she really wants.
There are some things that are very oldish, like the 'hero' spanking her or giving her a lot of orders, and she is one of those heroines that is very stubborn and a tomboy, but of course with lovely violet eyes. One of those heroines who has never had an erotic thought up until the moment she meets the hero's magic wand. And after reading the book, I'm not quite sure that she gave her consent to the first sexual encounter, something that usually happens in this Old Skool books.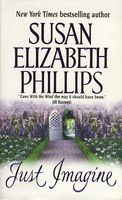 To sum it up, this was a funny reading –up to a certain point. I liked the characters, although Kit does really stupid things now and then. Tut the plot was so silly that it was nearly impossible for me to take it seriously. I understand that Susan Elizabeth Phillips reissued this book because her fans wanted to read everything written by her. I'm one of those, so I say thank you. I enjoyed it, but only because, as I have said, I did not take it seriously. Otherwise this would be a very hateful book. He punishes her. She's a walking cliché of feisty and tomboy heroine.
I'm glad that I have read this book, at last. It was a quick reading and entertaining until the last third of the book. Then it was boring. It has nothing to do with those contemporary funny novels that we love, but if you are a Susan Elizabeth Phillips fan, you could give it a try and learn how much she improved with the years.
It's not so full of purple prose or long descriptions, as used to happen in Wodiwiss' books. And sometimes, you see a glimpse of the good humour that SEP uses in her contemporary novels.
But although it was OK and enjoyable for a good part of the book, the last part was quite boring.