The topic of this month is
TBR Challenge: Contemporary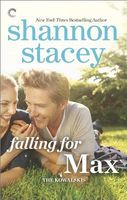 Genre: contemporary / little town
Part of a series: The Kowalski Family #9
This month we have to read a contemporary. This book was in my TBR pile because, back in 2015 –I think it was– Julie James was interviewed by Sarah Wendell for Smart Bitches Trashy Books podcast and when Wendell asked her if she had read something interesting lately, she recommended this book.
It sounded interesting, a nerdy type who wants to get married, a friend tries to help him in his search of a good woman and in the end it's this friend who falls for him.
Yes, we've seen this plot many times, but it could work if it's well done. It could be a variation of the trope friends-to-lovers, and that's one of my catnips.
Anyway, I should have known better. When a writer recommends something, I don't usually like it. It has happened to me with Courtney Milan's recommendations and now it has happened to me with this Julie James' recommendation.
As I say, the starting point of the plot is Max Crawford wanting to settle down. He's a little nerd, or geeky or just plain little awkward when it comes to social interactions. He works at home, painting model trains, but not everybody knows that. There's a little mystery about him that makes everybody think that perhaps he's a serial killer who quarters his victims in his basement.
But he's tall and sexy, with a fine sense of humour. Who cares if he also is a little bit literal in his way of talking?
He starts going out more. He goes to the diner, where Tori Burns works. They soon befriend each other. She wants to help him in his search of a wife.
You can imagine the predictable way this story goes. They are friends, he's got some not-very-sparky dates, they get sexually interested in each other, then try the friends-with-benefits thing and in the end they both recognize they love each other and there you got it, your HEA.
Max and Tori are sympathetic characters, even nice, but I wasn't involved in their love story, sorry. It was like watching two good friends of yours fall in love, I'm happy for them but I'm not interested in their intimacy, thank you.
The most interesting thing about this book is that Tori is the daughter of two parents that divorced when she was an adult, and how they use her in their fight. She wants to keep them at bay but it isn't easy. They don't see how much pain and suffering they are creating in her daughter. She doesn't believe in love or marriage precisely because of the way her parents behave. It was a believable obstacle for a contemporary novel, even if it is something that could be avoided easily –girl, if you don't want a relationship like the one your parents have, it's easy: don't chose a man like your father and don't behave like your mother.
I don't care about tropes, or plots that have been tried once and again, because it's quite difficult to find something new in this genre –in any genre. If it's done with a certain style, or humour, witty dialogues, a sassy heroine, a broody hero –I don't know, something attractive, you enjoy it. Really.
But there was nothing special in this book. I kept on reading but it was slow and quite boring to see them coming and going and all those secondary characters that I suppose belong to the Kowalski family and many of them are there to show you how happy a family they are, and that their happy ending in previous books were for real.
This is what happens when you take one book out of a series, I guess. I have seen good reviews about #1 (EXCLUSIVELY YOURS) and #3 (YOURS TO KEEP) in the series, but I'm not going to give them a try anytime soon.