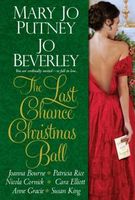 The topic of this month is
Holiday Themes
My Rating: 5-3-2-2-3-3-4-4 stars
In December we have to choose something related to Holiday. And as it's December an obvious book was this Christmas anthology.
It was in my TBR pile because,
as I have already written here, Joanna Bourne is one of my favourite authors. And I bought it because of her story
As I said last year, I'm not a very Christmas person. I will not repeat myself, but the basic idea is that I cannot stand people feigning to care for me when they have ignored me the whole year. I prefer to spend my time and enjoy my good times with those precious and wonderful people that have shared the bad times I have gone through. And they do not usually belong to my family.
So I bought this Christmas anthology because of Joanna Bourne's story, but I didn't find the moment to read it until now. But, of course, the rest of the stories are written by great authors, and it shows. They are the Word Wenches: Mary Jo Putney, Jo Beverley, Joanna Bourne, Patricia Rice, Anne Gracie, Susan King, Cara Elliott, and Nicola Cornick. They are great. Even if they chose such a trite time as a Regency ball, they are so elegant; they still find interesting characters to make us fall in love. There is more talent in each one of these short stories than in the majority of historical novels I've recently read.
The interesting thing about this anthology is that it revolves around a Christmas Ball at Holbourne Abbey. It's called the last chance because some people with no romantic relationship hope to find someone here.
It starts with Joanna Bourne's My True Love Hath My Heart. Here you have Claire, a jeweller who has been cheated by a client and seeks revenge. In order to achieve that, she works as a maid in Holbourne Abbey. She discovers that Nick Lafford, a man she had a thing with, is a guest, and the sparkle between them has not vanished. I really enjoyed this one. She rejected him because of their different backgrounds, but he is quite an adventurous aristocrat, a diplomat who will live outside the formal English society. She will have her revenge and he will conquer her heart -again. 5 stars.
Then we have the story written by Susan King, A Scottish Carol. I really loved the beginning of this story. Here we have a doctor who teaches in University. Quite an absent-minded scientist, as he does not recognize that his best pupil is the woman he fell in love years ago, disguised as a man, as women were not allowed to study Medicine. Both of them are supposed to go to the ball, but then the snow starts falling and they are in a house all alone. Time to talk about themselves, their past and their future. It is solved in a very simple way, but precisely because of that it sounds so real. 3 stars.
The third one is Christmas Larks, by Patricia Rice. Ivo is a noble man who has fought in the war and likes painting. He goes to his home in town, suffering from nightmares. He does not know that the building has been bequeathed to Sarah, his childhood friend, in order to create an orphanage. They have loved each other forever but have not confessed their feelings, so they keep on pretending they are just friends. Well written, but quite boring, and in the end a little bit cheesy. I'm not very fond of novels 'with children'. 2 stars.
Then, Mary Jo Putney explores the Beauty & the Beast topic with In the Bleak Midwinter. Kim, again a soldier with scars, lives in a tower and does not want to see anybody. Not even Roxanne, the woman he wanted to marry before the war. But she will not surrender without a fight, and before losing him forever, she wants to see him again and try to convince him that they can have a future together. Well written, nothing special and that uncomfortable view of the Napoleonic wars that is –well a little different from the History we are taught outside Britain 2 stars
Cara Elliott
tells the story of people who loved each other a long time ago and now they meet again in the ball. It's called Old Flames Dance and its main characters are Lily Tremaine, a widow that has lived in India for years and wants to see Edward, the man she loved in her youth, for a last time before settling in the South of England. Quite a lovely story of finding your true love again. 3 stars.
One of the main topics of these anthologies is 'strangled marriage'. Here, it appears in Nicola Cornick's A Season for Marriage. Lady Caroline Camden, Kim's and Edward's sister has been married for a few months. She loves her husband, but it looks as if he doesn't love her. The last straw is that he is not going to pay the things she buys. So she decides to fly away and go to the ball. Alone. She expects her husband to react. The problem is that Piers Camden is afraid of love. He thinks that love is what destroyed his parents. Well done. 3 stars.
In Miss Finch and the Angel the late Jo Beverley told the story of a rake, Gabriel –handsome and charming- who falls for a quiet girl with a shady past, Miss Finch. I really enjoyed this one, even knowing how difficult it is to tell a believable love story in such a short format. They meet, they feel attracted to each other, they have some verbal skirmish, but will it last after Christmas? Yes, their happy ending is totally believable. 4 stars.
And last but not least, Anne Gracie and her Mistletoe Kisses. Alice is a woman certainly on the shelf. She has looked after her mother, then her father and the house and tenants... and now she has to leave everything because the house has been inherited by a cousin. She will go to work as a teacher in Bath. While having her last Christmas in her house, she gives refuge to a brother and a sister that have had an accident on the road. They have a happy Christmas time, with Mistletoe Kisses included, of course. I particularly loved the way the author resolved the problem of showing that their love is real and not something that comes with the unreal atmosphere of festivities and will melt with the snow. 4 stars.
I have written about short stories before. That it's a format that usually works well if the couple knew each other beforehand, with the topic second chance at love in full swing. I still think the same, although, in this case, the two stories of people meeting and falling in love in very few days is convincing and charming.
One last thing, I have been reading quite disappointing historical books lately. Some were not very interesting stories. But other books have the problem of not been well-written. Here, in this anthology, I find stories that can be more or less of your liking and certainly nothing groundbreaking or particularly original, but the authors are great at their jobs, they know how to tell something in a very competent way.
This is the last TBR Challenge of this year. And although my English is not as good as it used to be, I'm ready to keep on doing the TBR Challenge in 2017. Hope to see you next year.