The topic of this month is
Recommended Read (a book recommended to you by someone)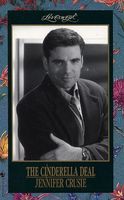 Bantam, Oct-1996 WTF??
Part of a series: Loveswept (LS) - 807
I just love everything that Jennifer Crusie has published.
In November we had to look for a book that was recommended to you by someone. I only had one of those in my kindle. It was the Spanish translation of 'A Fallen Lady', by Elizabeth Kingston. So I started reading it. That was going to be my book this month. But it isn't.
My experience with that book was like a beautiful palace surrounded by dense clouds of smoke. Sometimes they opened and you could see a charming book with wonderful characters, glimpses of a precious story. But then the black smoke came back and you could see nothing more than awful words and incomprehensible sentences. The dense smoke came from the fires that the translator had started with all her dictionaries, grammars and orthography of the Spanish language.
English-speaking people are used to foreigners like me making a lot of mistakes, but people who speak French or Spanish, with the Academies that give the official rendering of each word and what it exactly means, have less patience.
So it wouldn't be fair to speak badly about a book whose plot, characters and style, in the original form, must be great.
Therefore, I decided to look for something different, and I realised that there was not another book in my kindle that was a recommendation. But Wendy usually says that 'Remember: the themes are optional! The whole point of the TBR Challenge is to read something, anything, that has been languishing for far too long'.
And here I am, talking about one of the few Crusie's book that I haven't read yet.
As the title says, it's a kind of Cinderella story, and that fairy tale air permeates all the book. Lincoln Blaise is a History scholar that needs someone to pose as his fiancée in order to get his dream job in a Midwestern college. He asks Daisy Flattery, a story-teller, his charming and quite Bohemian neighbour in need of some money.
A history scholar and a story-teller. There must be a joke in there that I just don't get.
Anyway, this is one of those stories of opposites attracting. He is stuffy, very formal, and tidy while she is a free spirit, a feisty heroine. He's a scholar, she's an artist. He likes cold petite blondes and Daisy is just the opposite: tall, with curly black hair and all the right curves in the right places.
In a sense, it reminded me of Strange Bedpersons (Dec-1994), which is also a love story between a conservative hero and a leftish heroine.
So like Cinderella she has to perform a role: the prim and proper bride-to-be, oozing Southern charm. This storyteller does not consider herself a liar. She just likes creating and telling stories that could be unreal but not untrue. And this charade is just another story, Linc's story, which she is trying to tell.
But we know that in Romanceland, this kind of plot leads to a real relationship. And Daisy starts asking herself if she could be part of Linc's story, if they could make a story that belongs to the two of them.
I don't want to tell you all the details of the plot. Just that this is a funny and heart-warming. It can make you laugh and think, perhaps cry in a certain moment. The style is quick and witty, as you can expect from a Crusie's novel.
Apart from telling stories, Daisy is a painter. She makes very interesting works, for instance detailed pictures about real women like Rosa Parks or Lizzie Borden, who was accused of killing her parents. There's a very significant moment in the book about two paintings she does of Linc.
Will these two people work as a couple? The jury is still out. The main problem you could find in this book is, maybe, Lincoln's attitude. He wants her to be with him, but he's always afraid of her doing something embarrassing. Only at the end of the book he accepts that she's the woman of his life and that he wants her just like she is, and not like the perfect college teacher wife.
I had this feeling that yes, they have their HEA, but now and then it will not be so happy, because they are going to clash. They still have very different views about life. And you have to believe, as this is a romance novel, that they will always overcome it.
The setting, a college town in the Midwest, is a little bit oppressing. Each professor has to have a wife, it's a very conservative surrounding and I was feeling quite uncomfortable while reading it.
Jennifer Crusie's production has got three phases: first, category novels; then, contemporary novels and the third one what I call 'miscellaneous', a little bit of everything, alone and in the company of others.
This is one of the category novels she wrote for Bantam back in the 1990s.
In
AAR Reader Poll of 1996, it got a Honorary Mention in the category Feistiest Heroine (Daisy Flattery). It was also a RITA nominee. And some readers consider it one of their favourite books.
In my opinion, it has aged well. The characters are still witty, attractive, people that you would fall in love with.
So if you want something entertaining, you can give it a try. You will laugh and also, maybe, weep a little, and close the book with a smile on your face.