The topic of this month is
Series Catch-Up (a book from a series you're behind on)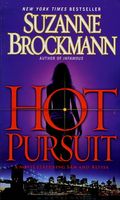 Part of a series: Troubleshooters #15
In July we have to look for a series in which we are behind on. The only series that I'm following right now is Troubleshooters. (Although this month I've started a new one, Maiden Lane.) I read some books back to back, and then I stop for a while. I write the review, perhaps three in a row but I publish them only one per month. That's the way that works for me. I've waited several months after reading Dark of Night, which was rather disappointing.
But as I had to look for a book in this series catch-up, so I told myself 'let's read the next Troubleshooters book'.
And it was quite entertaining, in a Brockmann's style that kept me glued to the page.
This book is mainly a suspense novel. There's a romantic part, but not so important or perhaps it's just not so attractive to me.
Although it looks like this is the Dan Gillman's book, I think that the main characters are Alyssa and Sam. A NY assemblywoman called Maria Bonavita is being threatened. And as she is friends to Savannah (Out of Control's heroine), this Maria wants Troubleshooters to teach her and her team a little bit about security and self-defence.
Everybody thinks this is going to be an easy task. That's why Alyssa and Sam go together with their son Ashton and four Navy SEALs: asshole Dan Gillman, bigmouth Izzy Zanella, sexy Tony Vlachic and Jay López.
But as soon as they arrive to NY, they discover a heart in Maria's desk, it looks like an animal heart, they don't want it to be human, just a gruesome threat.
This is mainly a procedural with a lot of investigation, and quite a few red-herrings added to the lot. Sam clashes with a policeman and it's with a broken rib the rest of the book. There's a serial killer, 'the Dentist', who is obsessed with Alyssa.
In the synopsis, they tell you that Alyssa is going to be kidnapped, and you wait the entire book for this to happen. An interesting way of creating suspense from the blurb, but I felt a little bit annoyed, because this is something that happens at the end of the book and it was as if the author had manipulated the readers.
The romantic part is given by Dan Gillman and his lust at first sight with Jenn, Maria's chief-of-staff. As I have always thought that this guy is an asshole, and he shows it here with his very cold seduction of Jenn, I was not involved in their story. His attitude is more or less: don't go for the beautiful girl, go for her ugly friend who is going to feel very grateful if a sexy muscled man wants to be with her.
Just a few of his lines to show this:
But there's something that I've found when dealing with women... And it's that the really drop-dead beautiful ones...? They are all completely insane... The end result is a woman who is at best high maintenance, and at worst a raving, irrational lunatic.
Everyone wants to get laid... You find the, I don't know, the chunky girl with the really pretty friends. She's low maintenance and low drama, plus she's wired to believe that you're too good to be true. She expects to be dumped, so when you do it, she lets go immediately.
This is a book with baby, Sam and Alyssa's baby. I'm not very fond of that trope, but if you like it, you will feel very tender watching this baby in the arms of several sexy men. I have this idea that when a TV show includes a baby, then is the beginning of the end (Grey's Anatomy or Big Bang Theory, for instance). I'm starting to think that the rule could be applied to long-term romance series.
I liked the suspense part, not so much the romantic one. But the reason wasn't that it was badly developed. No, it was well written and the sexy scenes? Very steamy. No, the problem I had was Dan. I don't feel like he is a hero that 'deserves' a happy ending. So it was great that he didn't get it. It was more in the line of 'let's give our relationship an opportunity, but not now - in the future'.